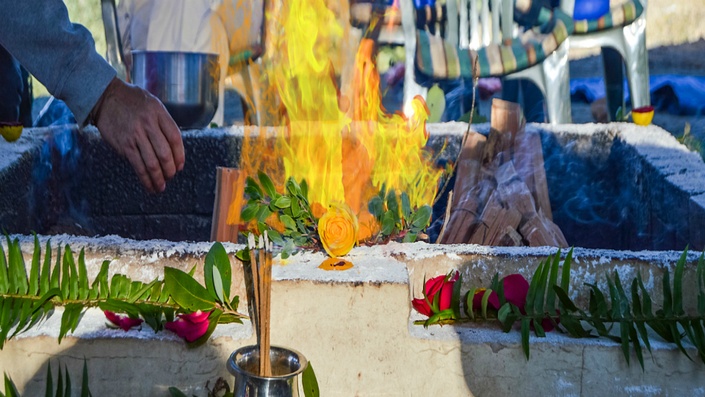 Full and New Moon Sacred Ceremonies
Create Health, Happiness and Raise Your Divine Consciousness for Peace
Sacred Cer­e­monies for Healing, Hap­pi­ness & Raising Divine Consciousness

A fire ceremony (puja) is one of the most loving and powerful self-care practices you can do. Fire ceremonies uplift the atmosphere for you, the earth, and every living being around you.

Puja. The New Yoga.

Sacred fire ceremonies - fire pujas - are an ancient spiritual technology, to create happiness, good health, and fulfill desires. The ancient sages used pujas to help the world. These ceremonies create divine vibrations that feed our souls through sacred fire ceremonies (pujas) and holy baths of power objects (abisheks).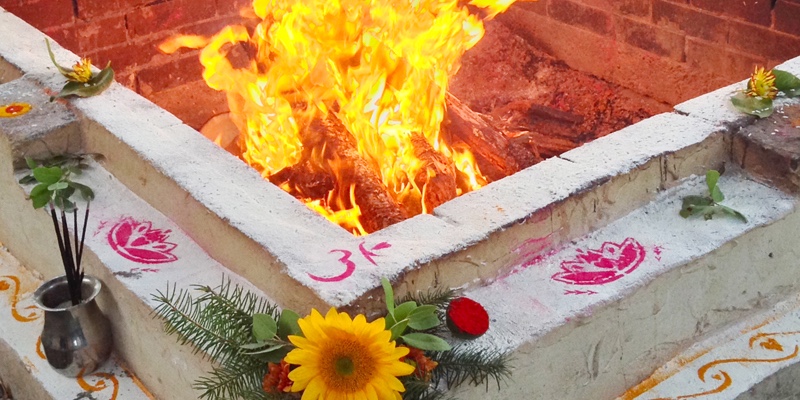 The sacredness of fire is universal to all spiritual traditions – a flame, a candle – is the living symbol of the Divine. A flame automatically touches the heart and connects us to the light from which we came and the light hidden in the heart of each human being. Fire is life and it often signifies love.

Sacred fire ceremonies are the most powerful spiritual practices for our souls and to create what we need in our lives. A puja is a ceremony to connect us to God, the Divine, using the elements of nature – earth, fire, water, air, and sky/ether. These ceremonies work over long distances to bring healing, abundance, protection from negative influences and success in fulfilling our dharma (work and life's purpose).

The divine vibrations created during these ceremonies are so beneficial and needed in the world today that we perform them every Full Moon and New Moon - for free - to help you release stress, refresh your energy, and create peaceful, healing vibrations for the world.

Simply watching a sacred fire ceremony will bring peaceful vibrations into your life.


Release Stress.
Create Peace & Happiness.
This self-paced course is a free resource. Learn about these ancient processes and everything you need to know to participate. In this course you will learn:

How the sacred fire ceremony (puja) and holy bath processes benefit your life and bring healing to the earth, atmosphere, plants, animals and people throughout the world
How to join for free anywhere you have access to the internet
Ancient knowledge about how we use nature, the Five Elements, in these processes
Hidden secrets of the sages for offering coconuts with your prayers (sankalpams and intentions) to a sacred fire
How to you will receive long distance healing energy transmissions and blessings even if you are not participating live!
Sacred prayers known as mantras from the palm leaf manuscripts for opening the heart, healing, and awakening divine consciousness
Free Photo downloads
How the earth, animals, and all living beings benefit from the divine vibrations created during fire ceremonies and holy baths (abisheks).


Sacred fire ceremonies create the vibrations that help us manifest what we need in our lives, and bring peace and healing on a global scale.



What do you need most?
Offer a Coconut During the Fire Puja to Receive a Powerful Blessing
The Full and New Moon Sacred Ceremonies for Peace send purifying energy to people and places around the world.

This course shares ancient spiritual mechanisms about charging a coconut with your sankalpams (personal intentions and prayers) and why offering it to the fire empowers your prayers.

Will You Join Us?
Pray for others. Pray for peace. Pray with love.

These sacred ceremonies work over long distances and send the highest positive energy anywhere to bring peace, prosperity, success in fulfilling our life's purpose.

The world needs us to come together to generate positive vibrations for peace now more than ever. Please join us to receive what you need in your life now, and to send positive energy of love and peace throughout the globe.

What people are saying...

"In my experience whether I am able to watch the live streaming or not, it is always a deep, soothing soul and heart healing experience. The vibrations I am feeling and receiving everytime are incredibly uplifting and make me feel so light and happy, so peaceful and full of joy. All this helps me a lot to bring more love and consciousness in my everyday life, to my family and my surroundings."
- Maria Gucher, Villach, Austria
"The energy transmissions have been very powerful for me, and each time I have literally felt the energy close to me and around me. Although on the west coast, I am in Canada and miles away from Laytonville, and to feel the energy transmissions so very powerfully is quite incredible."
- L.B., Victoria, Canada
"The new moon puja was awesome and the energy lasted for days. I have received such positive changes personally. I cannot say enough about these events and the blessings that are available. You can ask (silently) for what you want or need at puja, and without conflict of one's own spiritual or religious beliefs or practice, all for the betterment of your life and others. It crosses and flies above any religious barriers. We are so fortunate to have these ceremonies, group meditations, and other sacred learning experiences. I would not miss these opportunities."
- C.F., Knoxville, Tennessee
Your Instructor(s)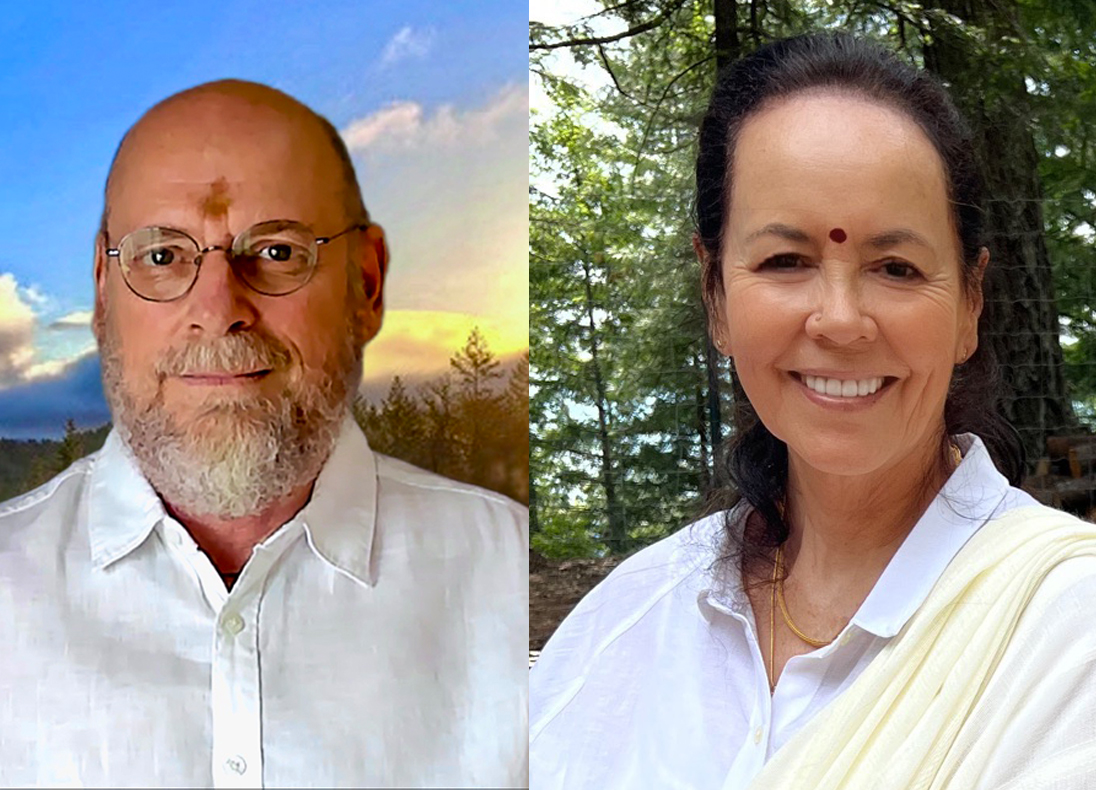 Mataji (Monika Penukonda Tay­lor)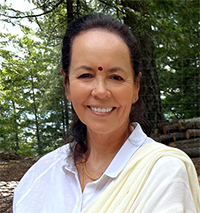 Having worked closely with Sri Kaleshwar for 15 years in Penukonda, India, Mataji now holds the living tradition and lineage of Sri Kaleshwar, transferred to her before his mahasamadhi in 2012. He prepared her to bring the knowledge and direct experience of the Divine Mother to a world that needs to awaken to Her presence. Mataji's inspiration, dedication, and leadership have created opportunities for anyone to access ancient knowledge through ongoing programs and initiatives through the Divine Mother Center. She founded Peace Fires, Holy Womb Initiative, and the Divine Mother School, activities of the Divine Mother Center, and continues her stewardship of these programs to bring the miracle of the Divine Mother to the world. Sri Kaleshwar said of her, "Monika (Mataji) belongs to the Divine Mother Kanaka Durga's feet. She is a Divine Ma on the planet. She will walk and give a lot of wisdom and clarity to bloom wisdom. She will bless millions of people on the planet. She's going to do it."
Mataji and Nityanandaji hold regular sacred ceremonies for healing on behalf of individuals, communities, and the globe.
Mataji is the author of Kaleshwar and a modern-day rendering of the Sri Sai Satcharitra and The Holy Womb: The Secrets of the Divine Mother's Creation. She is also the editor and ghostwriter of Sri Kaleshwar's books: The Real Life and Teachings of Jesus Christ; Shirdi Baba, The Universal Master, Victory Through Vaastu: Ancient Science of Vedic Architecture; The Divine Mystery Fort, The Teachings of Sri Kaleshwar.

Nityaanandaji (Clint Thomp­son, MD)Nityanandaji lived in Penukonda, India, for 12 years, where he studied directly with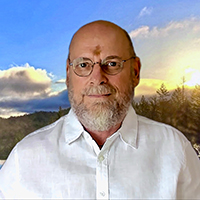 Sri Kaleshwar to train healers and students in the West. During those 12 years, he also served as Sri Kaleshwar's physician. Before meeting Sri Kaleshwar, he was an Internist and Chief Resident at UCSF. Nityanandaji founded the Divine Mother Center in Mendocino County, California, in 2004 and became a permanent resident of the Center upon returning to the United States in 2012. He now serves as a senior teacher and head of leadership for the Virtual Ashram Online Soul University, teaches weekly classes promoting the growth of students and masters of ancient knowledge, and works directly with students as a mentor and spiritual coach.
Nityanandaji and Mataji offer online programs, individual remote healings, and global blessing transmissions, as well as regular sacred ceremonies at the Divine Mother Center to bring healing, balance, and the experience of the Divine Mother to the world.

Course Curriculum
Create Happiness, Health, & Prosperity
Available in days
days after you enroll
Sacred Fire Ceremonies (Pujas)
Available in days
days after you enroll
A Coconut is a Supernatural Power Object
Available in days
days after you enroll
Frequently Asked Questions
What kinds of help and healing can I ask for?
People have received help in their personal, spiritual, and business life in many different ways. Ask for whatever is most on your heart; help in a rela­tion­ship, healing heartbreak, washing out self-critical feelings, solu­tions to a prob­lem, relief from an ill­ness, help in remov­ing an obsta­cle, success in a new endeavor, or resources to fulfill your dharma. You could also use the fire ceremony to fulfill spiritual longings, connect to divine souls, and to send healing to individuals and communities that are suffering. What­ever you need, what­ever your fam­ily needs, a sacred fire puja will help.
Can I receive healing and energy transmissions even if I don't join the fire ceremony/puja webcast?
Yes. Absolutely. It is the special capacity of fire ceremony to work over long distances, sending healing and blessings wherever it is needed. When you offer a coconut, shakti-energy transmissions and divine blessings automatically flow to you, even if you are not watching the live broadcast.
I want to participate, but I don't know how often I'll be able to join. Is that okay?
Anytime you are able to join is wonderful and beneficial. You do not have to commit to participating every month or for the entire ceremony. Join as often as you can via the free web­cast. Even tuning-in for 10 minutes will help reduce stress and bring peaceful vibrations.
When does the course start and finish?
This course starts now and you have lifetime access (with an active email address). It's completely self-paced. You choose which topic you would like to read and when.
Can I receive the benefits even if I don't have experience meditating?
These powerful Full and New Moon Sacred Ceremonies, and all of the programs offered by the Divine Lineage Healing Center, can be used in combination with any religion and spiritual tradition you practice. Previous meditation or shakti-energy process experience isn't necessary. Please join us. You are most welcome!
Whatever you need, whatever your family needs a sacred fire ceremony (puja) will help.

Join this course and learn how important these ancient processes are in today's modern times, and just how easy it is for you to participate and receive their benefits. Start learning and experience the energy today.