"If you're smart in the Shiva energy during these couple of days (Shivaratri), making the focus, you can cut off the string of negativity from many, many lifetimes. It can go out. That's why they call it a Shiva lingam, there is no beginning, there is no ending. Shiva's the right person. He always sits in a deep vairagya stage. At the same time, He's unbelievably more powerful than Brahma, than Vishnu. Brahma and Vishnu also have to meditate for Shiva's blessing." 
- Sri Kaleshwar
About This Program


On Shivaratri night we can connect to Shiva. The Nilakanta, Bolo Shankara aspects of Him become available. Especially on Shivaratri, His blessings come not only to the earth, but to the entire universe. We can receive anything needed for healing and transforming negativity in our lives. Shiva is the one to take that and to bless anything in return. Shiva's special characteristic is to help anyone. But, above all else, Shivaratri is a night of merging in divine consciousness. Shiva is the God of enlightenment. It's on Shivaratri that we can receive the highest intelligence and wisdom, going beyond the body and mind. If we open our hearts and attention to Shiva, His blessings will flow to anyone who looks to Him, even accidentally.
That is Shiva. The unconditionally loving Lord and Father.
When we turn to Him on this night that He gave to the universe, we can receive the special blessings of no other time in the year. This one night is said to be worth a million years of meditation. All the saints in the world prepare for Shivaratri, to receive energy and enlightenment from Shiva.
Shiva as Nilakanta
The Puranas say Shiva came to the rescue of the world when the Gods and Demons were churning a milk ocean and a mortal poison started to emerge in their struggle for Amrutha (immortal nectar). Everyone was in fear of the poison because they thought the entire world would be reduced to ashes! At this critical moment, Shiva swallowed the poison, and held it in His throat. The poison was digested there, turning Shiva's throat blue. Shiva became Nilakanta, of the blue throat, the one who takes the negativity.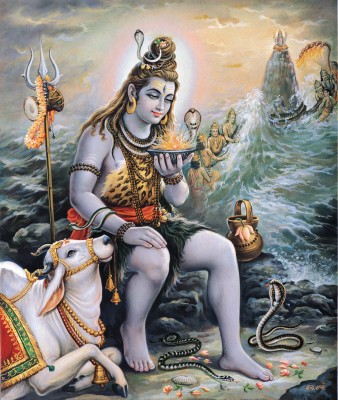 In this same way, Shiva takes our personal negativity of blocks, limitations and problems. All angles of torturing yourself are forms of negativity that Shiva can help remove. When you merge with Shiva, you realize you are free of your limitations!
What you can give to Nilakanta includes:
Your past negative karma
Jealousy, proudness, unworthiness, insecurity and feeling left
A closed heart
Personal negativity and doubt
Limitations and problems
Shiva as Bolo Shankara
The smallest act of devotion on Shivaratri such as offering a single leaf or a drop of water to a Shiva lingam is enough to please Shiva. Shiva accepts all beings with infinite compassion. Even if you only ask once, and if your mind and heart are filled with negativity, Shiva will still invite you to be His companion.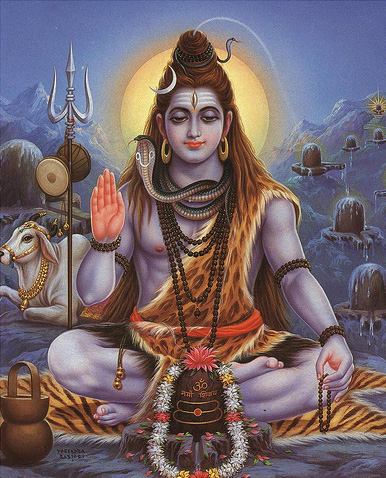 What you can ask from Bolo Shankara includes:
Clarity, creativity and courage
Discernment and wisdom
Merging in pure consciousness
Developing an open heart, loving and caring nature
Third-eye power
Creativity
Finding a soul mate
Protection from Negativity
Deepening your meditations
Merge with Shiva and realize your true self!
"Living beings are kept healthy by the kindness of Shiva." ~ Mahabharata
"You are not putting the water on Him, you are putting it on your soul to wash it.
You are not doing abishek to Shiva. You are doing abishek to your own soul."
~ Sri Kaleshwar


Program Features
New Satsangs with
Mataji and Nityanandaji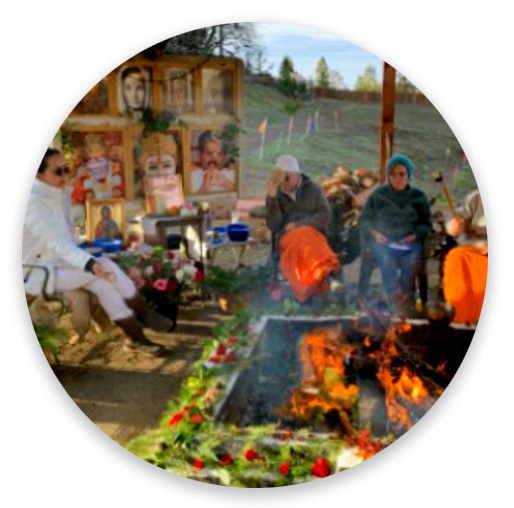 Remotely Join
Sacred Fire Ceremonies (Pujas)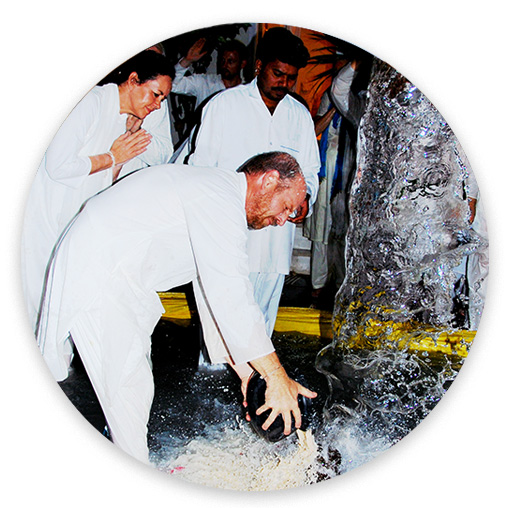 Special Abishek Process
on Shivaratri Night
15 Day Meditation Process
Thursday, February 25 – Thursday, March 11, 2021
In this 15-day meditation process leading up to Shivaratri on March 11th, prepare yourself to experience the divine energy with a daily meditation and abishek process you do at home.
This simple daily process will shed layers of old energy, purifying your vibrations to receive Shiva's blessings on Shivaratri night.
For the abishek, you can use any Shiva lingam, a Shirdi Baba statue, or any holy object.
Never before offered power objects charged by Sri Kaleshwar are being made available for this Shivaratri process and will be available to purchase soon online.
In addition, you will be included in a special abishek process on Shivaratri night and you will work with The Shiva Purification Channels, ancient mantras from the Parameshwari Palm Leaf Manuscript to purify and charge your soul with the supreme energy of the Divine Mother and Father.
Two new teaching satsangs with Mataji and Nityanandaji are included in this Shivaratri process!


Benefits of This Program Include:
Join a Shivaratri group meditation process to merge with Shiva. As we turn to Shiva together our group energy elevates the experience for all, making it easier for everyone to enter higher stages of divine energy and consciousness
Receive knowledge transmissions in the satsangs to help you use Shivaratri, the night of enlightenment, to receive the highest intelligence and wisdom
Learn about Shiva/Shakti and understanding their play
Practice an ancient technique of a holy bath (abishek) to access Shiva's soul energy and to wash your own soul
Join a daily synchronized global meditation from home during the 15 days of the program as you are able and inspired
Participate in a private blog to share experiences, insights, and questions during this process
Receive personalized blessing energy (shakti) transmissions during four live virtual sacred ceremonies to support your process and success:
Prosperity & Abundance (Mahalakshmi) Sacred Fire Ceremony (February 26th)
Peace Fires Global Sacred Fire Ceremony for World Peace (February 26th)
Full Moon Sacred Ceremonies, A Holy Bath (Abishek) to Ganesh, Full Moon Sacred Fire Ceremony (Puja) (February 27th)
Shivaratri Festival (March 11th)
God is equal to peace. Peace is equal to God. God is equal to silence. Silence is equal to God. Deep silence. In silence, you can work powerfully, more powerfully than God. If your soul is in deep silence, floating in silence, you are like Shiva. You're a creator.
~ Sri Kaleshwar
Mataji (Monika Penukonda)
Mataji worked closely with Sri Kaleshwar (1973-2012) for 15 years in Penukonda, India. She is the editor and ghostwriter of his books: The Real Life and Teachings of Jesus Christ; Shirdi Baba, The Universal Master, Victory Through Vaastu: Ancient Science of Vedic Architecture; The Divine Mystery Fort, The Teachings of Sri Kaleshwar. She is the author of Kaleshwar, and a modern-day rendering of the Sri Sai Satcharitra. Sri Kaleshwar said of her, "Monika belongs to the Divine Mother Kanaka Durga's feet. She is a Divine Ma on the planet. She'll walk and give a lot of wisdom, and clarity to bloom wisdom. This lady will bless millions of people on the planet." Sri Kaleshwar transferred the lineage to her shortly before his mahasamadhi in 2012.
Nityanandaji (Clint Thomp­son, MD)
After experiencing the power of Sai Shakti Healing firsthand from Sri Kaleshwar, he gave up his Western medical practice to study healing in India. For 15 years, he was trained directly by Sri Kaleshwar to train other healers in the West. Nityanandaji was Sri Kaleshwar's personal physician; he is the author of The Aware­ness of Heal­ing. He founded the Divine Lineage Center in 2004. Mataji and Nityanandaji now reside at the Divine Lin­eage Cen­ter in Mendocino County, Northern Cal­i­for­nia. They give teach­ings, heal­ings and shak­ti­pat trans­mis­sion at the Center and via remote transmission all around the world. They have led processes in which many students received the darshan of the Divine Mother.