Shiva Awakens to Awaken Us

Thursday, February 1 – Tuesday, February 13, 2018
Join Any Time During This 13 Day Process!
"The energy of Shivaratri - that one day is enough to lift your soul to a pretty high level."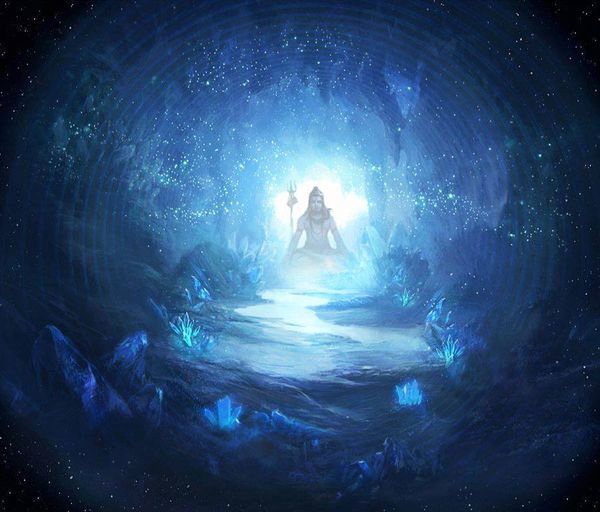 Shivaratri, the night of Shiva, is the most precious and powerful night of the year. An explosion of cosmic energy happens on the earth plane on this auspicious night. The Puranas describe the first Shivaratri, when the cosmic explosion called 'Big Bang' occurred and Shiva descended as an infinite shaft of light extending from the sky to earth.
Receive the Shaktipat of Shiva
Each year, on the night of Shivaratri, a reflection of this explosion happens and intense cosmic energy radiates on the planet. Shiva makes His descent to the earth plane to bestow grace and consciousness in His devotees.
"Many saints practiced for years, years and years. For lifetimes they dedicated themselves to getting Brahma Consciousness. It's not that easy. Shiva is the character to lift you, to make it possible. It's not that easy a job to make your Brahma Consciousness strong. The theme of the life and history of any saint, of anything, the whole spirituality is linked with Brahma Consciousness." ~ Sri Kaleshwar
Shivaratri only comes once a year. Meditating on this night is said to be equal to meditating a million nights. You can gain tremendous spiritual power.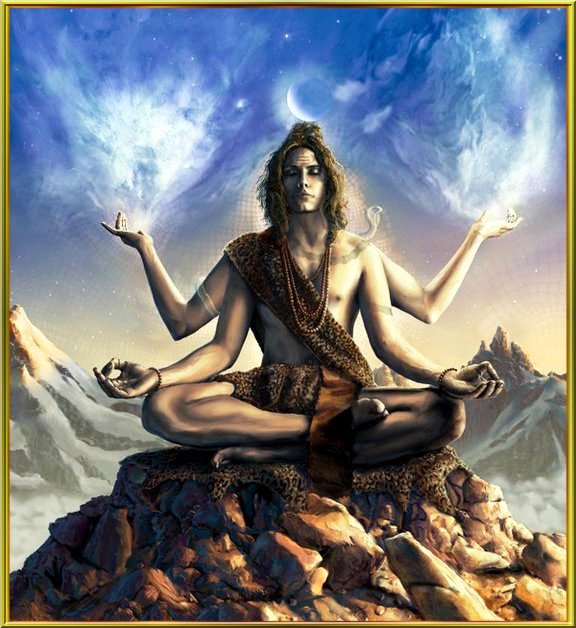 Shivaratri Is Celebrating Shiva Within Oneself
"On the planet everybody suffered illusions except Shiva. That's His greatness
."
~ Sri Kaleshwar
Your true nature is Shiva. Shiva is pure consciousness, peace and auspiciousness, happiness and knowledge. Shiva is the embodiment of unconditional love and forgiveness. This world is nothing but the blissful energy of the all-pervading consciousness of Shiva.
When Shiva manifests in you, you experience oneness with Shiva, Shivoham, the awareness 'I am Shiva'. This awareness comes when we invoke Him, "Mahadeva, awaken my consciousness. Let me recognize you in me. Radiate through me."
"For many, many lifetimes, whatever cosmic energy your soul has received, it has to stay in you until you receive this stage: To be able to understand the Shiva energy and produce the Shiva energy.
" ~ Sri Kaleshwar
Shiva's Forgiveness and Compassion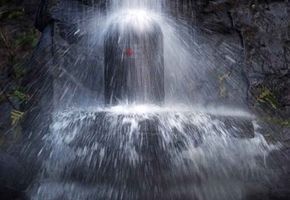 Shiva is easily pleased. He accepts you even if you only ask once. The smallest act of devotion, offering a leaf or a drop of water, is enough. His compassion is infinite. He accepts all beings. Even if your mind and heart is filled with negativity, He invites you to be His companion. He showers His grace on all. Just by inviting Him.
Shiva Will Remove the Poison From You
"If you're smart in the Shiva energy during these couple of days (Shivaratri), making the focus, you can cut off the string of negativity from many, many lifetimes. It can go out. That's why they call it a Shiva lingam, there is no beginning, there is no ending. Shiva's the right person. He always sits in a deep vairagya stage. At the same time, He's unbelievably more powerful than Brahma, than Vishnu. Brahma and Vishnu also have to meditate for Shiva's blessing."
~ Sri Kaleshwar
Shiva is the one who will take blocks, limitations and problems from you. Unworthiness, insecurity, guilt, feeling left out, all angles of torturing yourself. Shiva is Nilakanta, the blue throated one who drinks the poison to protect humanity. By using Shiva Purification Channels, you can purify those blocks to bring clarity to your inner consciousness. The Shiva Purification Channels, an ancient mantras from the Parameshwari palm leaf manuscript, will be made available as part of this process.
"Don't misunderstand, thinking you only have to chant the mantra to get success – it counts, how much you wash the blocks, how much you come out from the illusions. How mch you surrender to the divine."
~ Sri Kaleshwar
Your Shivaratri Process
1) Daily Meditation to Experience Shiva in You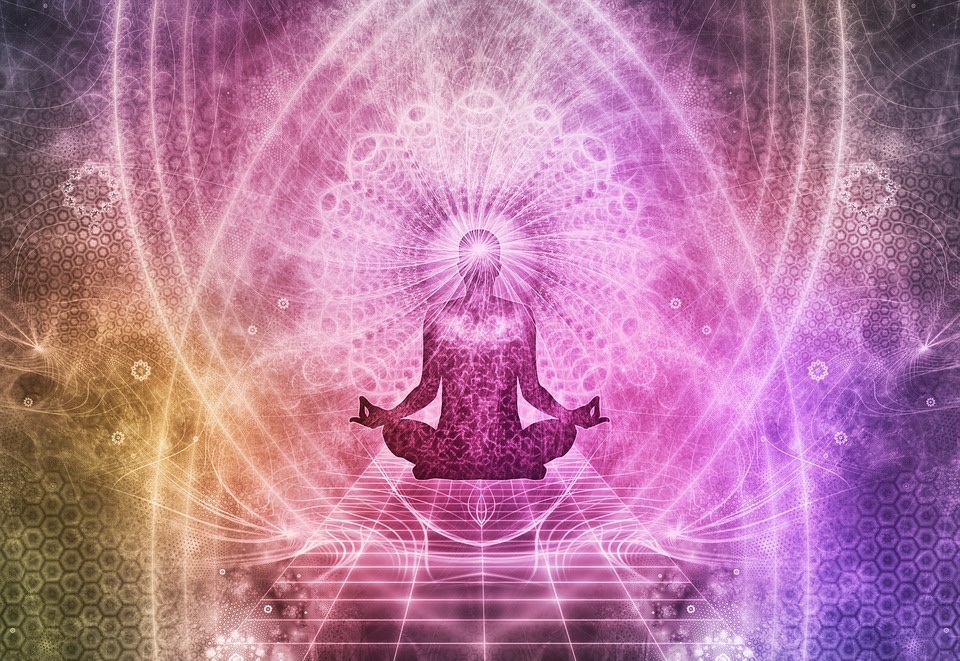 From February 1st until Shivaratri take part in a daily meditation process to connect to Shiva using the Shiva Purification Channels mantras from the ancient knowledge. (You can start the daily meditation whenever you join the process leading up to Shivaratri.)
2) Daily Holy Bath (Abishek) to a Holy Object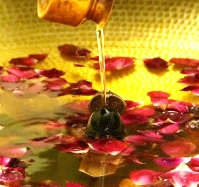 "You are not putting the water on Him, you are putting it on your soul to wash it. You are not doing abishek to Shiva. You are doing abishek to your own soul."
~
Sri Kaleshwar
Shiva is always where the water is. He loves and is attracted to the water element and it's capacity to calm any negativity. He wears the Goddess Ganga in His hair to cool the poison He drinks on behalf of humanity.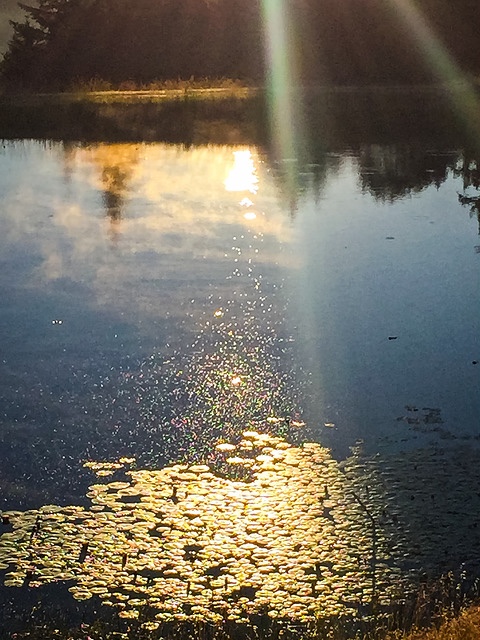 By doing a daily abishek to a holy object you will be purifying your own vibrations in preparation to receive Shiva's shaktipat on Shivaratri. You can use any Shiva holy object, like a Shiva lingam or Baba statue, that you already have for this process. In addition, new power objects are available for this process.
Sri Kaleshwar taught that the secret of the power in a Holy Bath (Abishek) is the water itself: "The inner quality of water is to create energy. Water creates energy in a person. It creates huge vibrations very easily. It can also balance energy. It can also settle the energy easily, within seconds. It can make energy balanced and calm."
3) Special Shivaratri Process on February 13th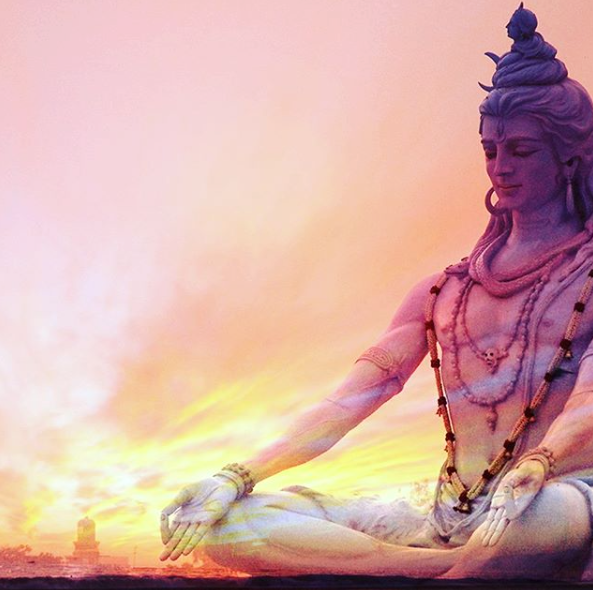 On Shivaratri, February 13th, take part in a guided meditative process through the day and night to most powerfully receive Shiva's blessings.
4) Rudra Homa on Shivaratri Night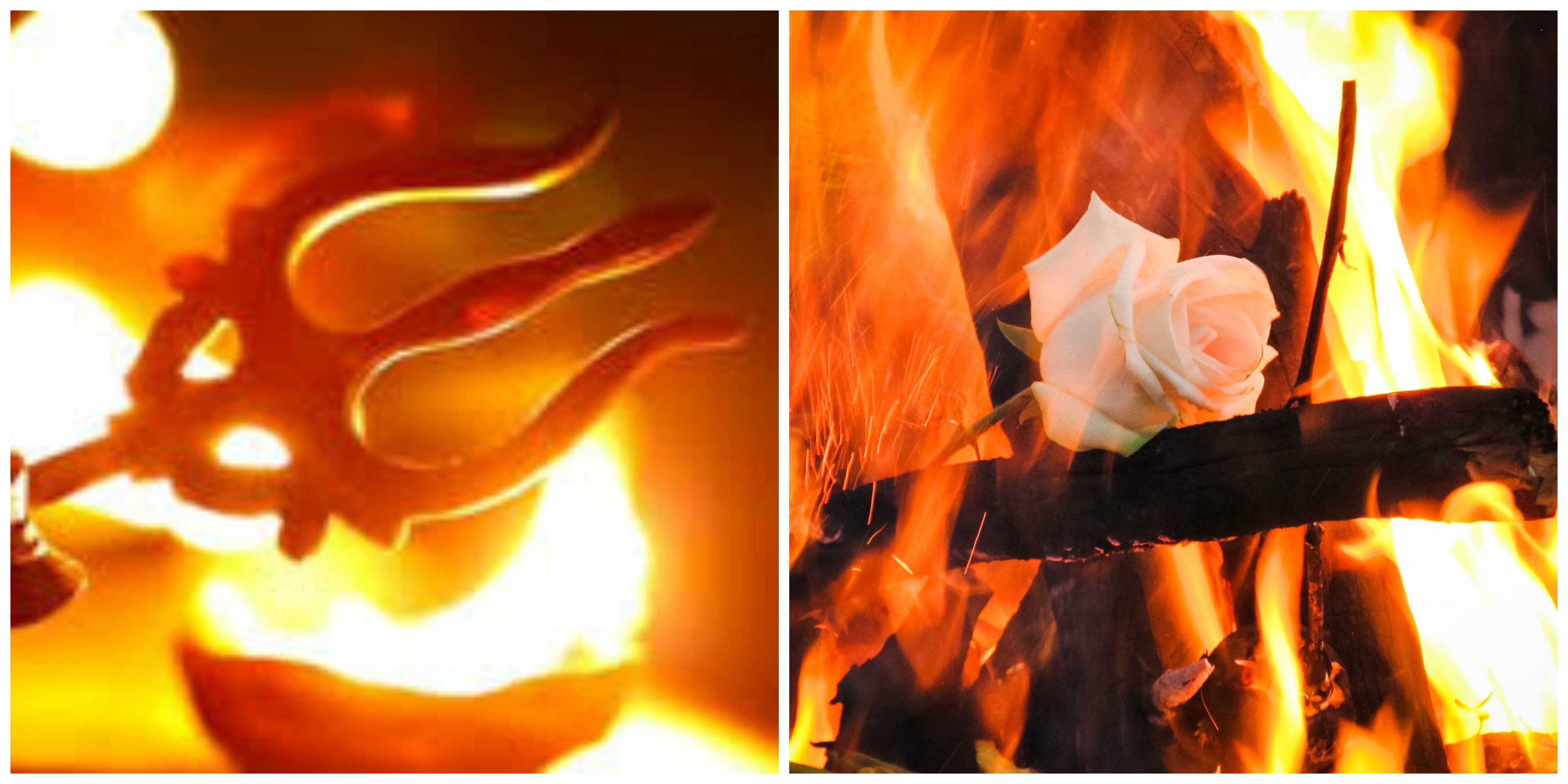 Participate in a Rudra Homa, a sacred fire ceremony to connect to Shiva and receive freedom from karma from the Universal Father.
Holy Objects (Shiva Lingams)
Available for a limited time only for participants of this Shivaratri course
Instructions to purchase Shiva lingams will be made available after enrollment. If you already have a holy object you would like to use for this process, you are welcome to do so for no additional charge.

Black Shiva Lingam Charged in Lake Kaleshwar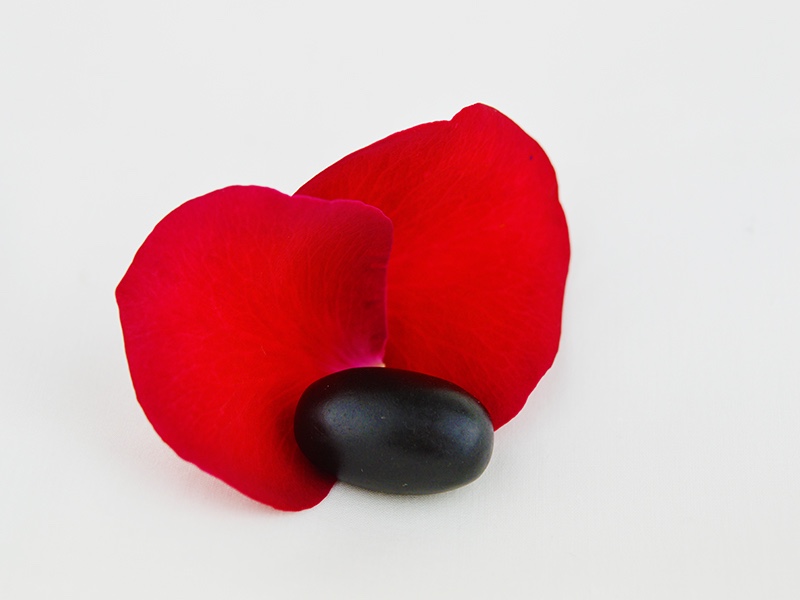 These lingams have been specially charged in Lake Kaleshwar. Supply is limited. They are approximately 1'' - 1.5'' long. $108 (plus shipping)
A hand-made, velvet power object pouch for your shiva lingam is available for an additional $30.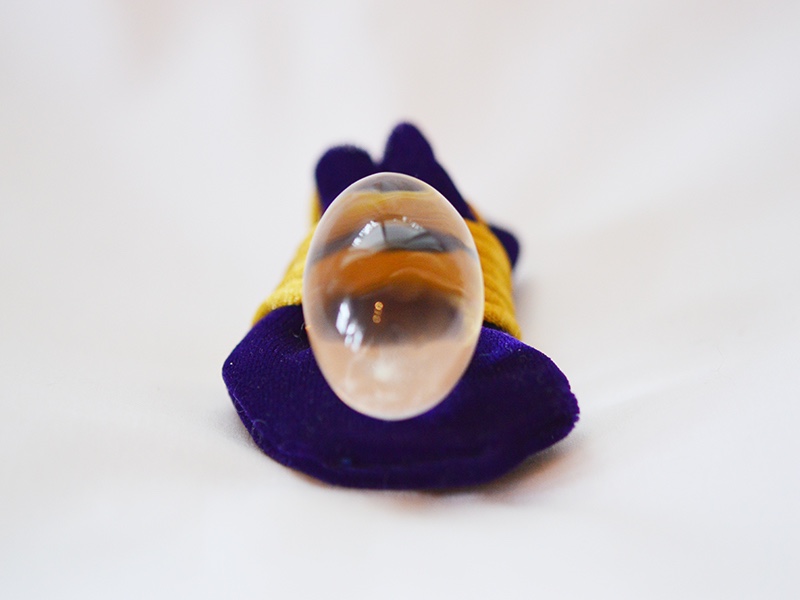 These crystal lingams were charged directly on Shirdi Baba's samadhi, in Shirdi, India, during a morning abishek to the Shirdi Baba murthi (statue) and samadhi in late 2017. Supply is limited. They are approximately 1'' - 1.5'' long. $1008 (plus shipping)
Each crystal lingam comes with a hand-made, velvet power object pouch that can be worn around your neck.
What You Will Do in This Course:
Join one private global teaching satsang. This live teaching satsang will be recorded and made available online to group members for later access.
Participate in a Sacred Fire Ceremony (Puja) for Prosperity and Abundance (Maha Lakshmi) to bless the beginning of the process.
Participate in a Global Peace Fire for world peace and healing.
Participate in all events on Shivaratri, February 13th, including Healing Music (Bhajans) and a Rudra Homa on Shivaratri night.
Join in synchronized worldwide group meditations (when possible).
Be a part of a group discussion board / blog forum.
Be a part of a global spiritual community now stepping forward to act together to bring love, peace and healing to our planet.
What You Will Receive:
Meditation and Holy Bath (Abishek) process to connect to Shiva.
Two remote blessing energy (shakti) transmissions from the Divine Lineage Healing Center.
Teaching from the ancient knowledge on Shiva's character, including renditions of Sri Kaleshwar's teachings on Shiva read at Lake Manasarovar at the foot of Mt. Kailash, the power spot of Shiva and Shakti in the Himalayas.
Group emails with important process updates and information.
Full access to all program materials within your own student account.
Important Course Dates Broadcast Live on Our Homepage (Pacific):
Thursday, February 1st – 3:00 pm - 5:00 pm, Sacred Fire Ceremony (Puja) for Prosperity and Abundance (Maha Lakshmi)
Friday, February 2nd - 8:00 am - 4:00 pm, Global Peace Fire for World Peace and Healing
Sunday, February 4th - 2:00 pm, Live Teaching Satsang
Tuesday, February 13th - 11 am - 12 pm, Shivaratri Festival Healing Music (Bhajans)
Tuesday, February 13th - 3:00 pm - 6:00 pm Shivaratri Festival Rudra Homa